Colombes in Namur
Eliaquim Mangala was born on the 13th of February of 1991 in Colombes (Paris). His early years were spent in the suburbs of Paris where he soon learned how to play... basketball!
His family moved to Belgium when he was 5 years old and that forced him to give up basketball. He ended up turning to football and joined the local club, Athletic Club Lustin in Namur, where he was living. This was where he discovered his true passion for football. He played for this club for six years before moving to CS Wépionnais.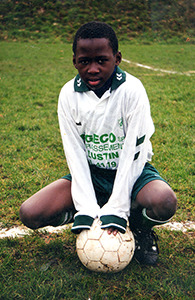 Two years later, in 2004, Eliaquim Mangala continued his path: the biggest club of the city, the Union Royale Namur, opened up the doors for him. His potential was quickly noticed.
His serious attitude and his physical abilities were precious, and his ability to play both as a forward and a defensive midfielder was noticed, particularly by Standard Liege.
After his second season at Namur, which was seen as the confirmation of his competence, Mangala joined the IPES Waremme "Football School". In 2008, he joined the prestigious Standard Liège. He finished his studies at Seraing IPES while he played for the main team.