National team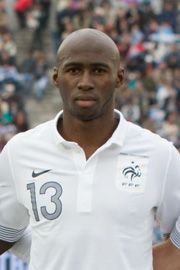 Eliaquim Mangala earned his first cap as a french Under 21 on the November 13ht 2009 in a friendly against Tunisia. A few days later, unfortunately, due to a groin injury, he couldn't play against Slovenia in the Euro 2011 Under 21 qualifiers.
This, however, was just a postponement. On the 15th of November 2011, in a qualification match for the 2013 Under 21s European Championship, Mangala opened the score against Slovakia, France's main rival in the group.
Mangala's last appearance for the french Under 21s was on the 16th of October 2012 on a match against Norway in the European Championship qualification.
These matches were crucial for his career and his potential reminded other great players. The former manager of France national team, Raymond Domenech, was convinced:
"Mangala has something. He has character. Didier [Deschamps] is aware of his situation. We've talked about it. When you see players like that, you have to say something." (Le Figaro newspaper, 19 March 2013).
His first World Championship :
On the 13th of may in 2014 Eliaquim Mangala fulfilled the dream of integrating Didier Deschamps' squad to participate in the World Championship, held in Brazil.
With 23 years turned in February, the centre back was one of the youngest french players that traveled to Brazil, just behind Varane and Pogba (21) and Digne (20).
The cal up to the world's largest competition of national teams occurred less than a year after his debut in the French first team: with the jersey number 1 against Uruguay in a friendly that took place in June 2013 and in which he played the full 90 minutes. Before, he had already played in the youth teams of France, with 21 caps for the Under-21 and two goals.
Eliaquim was honoured to receive his first cap for the first french national team on the 6th of June 2013 in a friendly against Uruguay.
Part of the starting eleven on a friendly match between France and The Netherlands on March 5th 2014
Called up for the FIFA World Cup™ in Brazil on the 13th of May 2014
Called up for the EURO 2016 in France.
See Mangala's honours in the Career section.

Eliaquim was honoured to receive his first cap for the first french national team on the 6th of June 2013 in a friendly against Uruguay. Part of the starting eleven on a friendly match between France and The Netherlands on March 5th 2014 Called up for the FIFA World Cup™ in Brazil on the 13th of May 2014